My to-do list is a mile long, and I keep thinking of things to add to it!
I am preparing for a week out of the country with two of my boys, one of which barely knows us and we are guessing at the size clothing and shoes he wears, what he likes to play with, what he can eat. Due to the weather, and not thinking it will be safe to explore the city on my own, we will be spending much of that week in the hotel room. I have to keep two little boys busy, as we learn about each other and try to communicate as much as possible with family back home.
I am preparing for a week away from my family, a nursing baby who is VERY attached to mommy, and two little ones who are still not sleeping through the night. Please pray for this!
I am preparing for 11 days with my husband home during Christmas break, lol. Lots of house projects to do, and things to keep busy with, but if the house turns into a bomb over the weekend when everyone is home and chores slow down, what will it look like after 11 days?? Hopefully we'll be able to work together and keep everything in a semblance of order and that our pantry won't be emptied and everything I've already done become undone. I do not anticipate being able to do much trip prep stuff during these 11 days, though.
I am preparing to have company in my house while I am gone. Yes, they are family, but still it is more people in our home who aren't used to being there, do not know where things are kept and how things are normally done, and they have to pick up the pieces and care for our children while I am gone. I am so grateful for my family being available and willing to come help out and I know they will do a great job, no worries there at all. I am trying to minimize what needs to be done when I get home, and have as much (beds, clothing, etc) ready ahead of time, while at the same time make the week go as smoothly as possible for those at home. Daddy will be working the whole week I'm gone (so he can take the following week off) but he will be home every evening for dinner and putting children to bed, which I think will be a huge help to keep things normal for everyone.
I am preparing to add another little one to our family...preparing a place for him to sleep, to store his clothes, to eat, to ride in the car, preparing to accomidate his special needs. All of these things sound so simple, but there are a lot of details that are involved. We've been talking about Ben with his siblings and doing some of this prep stuff for a while now so it is not a surprise and no one is being booted from their beds or assigned spots anywhere. Praying it will be a semi smooth transition for all involved.
I am preparing for the month after our return, for hubby returning to work and being on my own, for the honeymoon period of the adoption (IF there is one, lol) and for that period to end...for doctors appts, starting back up with homeschooling the oldest ones, cooking and laundry for 10, caring for toddlers and preschoolers.
We leave in 18 days!!!
******************************************
....And A Dollar Short
Please, don't forget about this wonderful giveaway going on to Set Ally Free!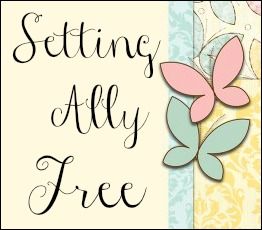 The Musk family is still short $2,050 to meet their goal of being funded for the pick up trip to bring their beautiful daughter, Ally, home!
I can't wait to see her in her new family, without her head shaved, with a full belly, toys to play with, loving arms around her, and right where she belongs surrounded by all her siblings.
We will probably pass each other in the air as I fly home with my boys and they are flying to BG to pick up their daughter on the 12th of Jan.
Take a look at all the great prizes, and even if you don't have and $ to spare, please share the link!